Goal: Maximising impact and sustainability of phase 1, Excellence in: Obstetric Skills

Duration: 1 year

Partner: Kitovu Health Care Complex, Masaka District and Masaka Regional Referral Hospital

Funder: The Tropical Health & Education Trust (THET)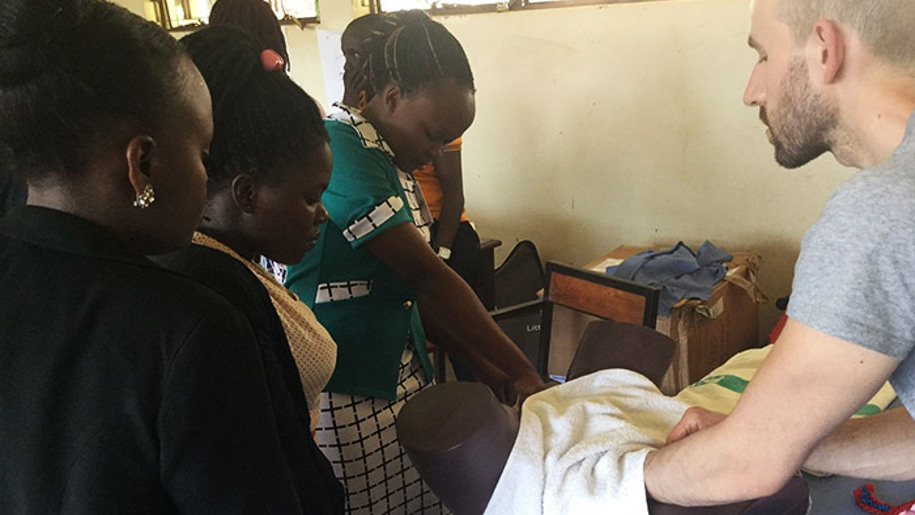 Our impact
Training in 5 facilities in Masaka District:
112

 healthcare providers trained on emergency obstetric skills (EOS)

15 local Master Trainers trained to deliver EOS course to peers
98% of trainees at referring centres improved knowledge of emergency obstetric care
90% of trainees improved skills on partograph, Early Warning Score chart and neonatal resuscitation
Healthcare providers report feeling more confident to treat or refer women for maternity services
Increased access to quality maternity services for rural communities in Masaka


In 2 targeted hospitals:
87.5% of women satisfied or very satisfied with how they were treated by healthcare providers
99.2% of women would return for future services
99.6% of women would recommend the facilities to a friend
We worked with local partners to improve obstetric care across five health facilities in Masaka District, Uganda. We did this by training midwives, nurses and doctors on emergency obstetric skills (EOS) to improve patient outcomes and enhance respectful care for women and girls. To establish and embed training at each facility, we adopted a training the trainers approach. This involved identifying and training Ugandan Master Trainers to enable them to teach the EOS course to their peers.
By training healthcare providers to use partographs and Early Warning Score charts, we have equipped them with key skills in monitoring the progress of women during labour, identifying any deterioration in a woman's condition and ensuring appropriate early intervention. Correct use of these tools can help to prevent and manage prolonged or obstructed labour and other serious complications such as a ruptured uterus, obstetric fistula and stillbirth. Combined with increased skills in neonatal resuscitation, HCPs are more prepared to respond to emergencies and reduce the number of women and their newborns who die from obstetric complications
The endline assessment of this programme demonstrated final impact. The ROS project was evaluated and lessons learned fed in to future initiatives with our partners.
In October 2019 we redeveloped the neonatal resuscitation module based on feedback from partners, HCPs and clinical volunteers. This was piloted in Masaka using funds raised through the RCOG challenge fund. The pilot was also used as an opportunity to hold refresher training and a referral workshop to maintain good communication and team-working between different health centres in the system.
The pilot focused on on embedding skill and knowledge sharing within existing local structures to ensure sustainability which is locally directed and driven.
If you would like more information, please get in touch at development@rcog.org.uk