Goal: Increasing the number of patients receiving improved level of obstetric care at health facilities

Duration: 1 year programme

Partner: Kitovu Health Care Complex, Masaka District and Masaka Regional Referral Hospital

Funder: Tropical Health & Education Trust (THET), The Laura Case Trust, Dr Marcus Filshie FRCOG through the RCOG/Marcus Filshie Fellowship
Background


Uganda has made significant progress over the past decade in reducing its maternal mortality rate however, 343 women per 100,000 in Uganda, are still dying in childbirth, often from preventable conditions such as sepsis, pre-eclampsia and haemorrhage.


Obstetric skills training is key to improving outcomes for mothers and babies but it can only work when it is locally owned and driven. Since 2015, the RCOG has been working with health professionals in Uganda to develop a local source of high-quality teachers to ensure ongoing professional development in essential obstetric skills for health providers.
Programme of work


Phase 1 – Excellence in: Obstetric Skills
Phase 2 – Resilience in: Obstetric Skills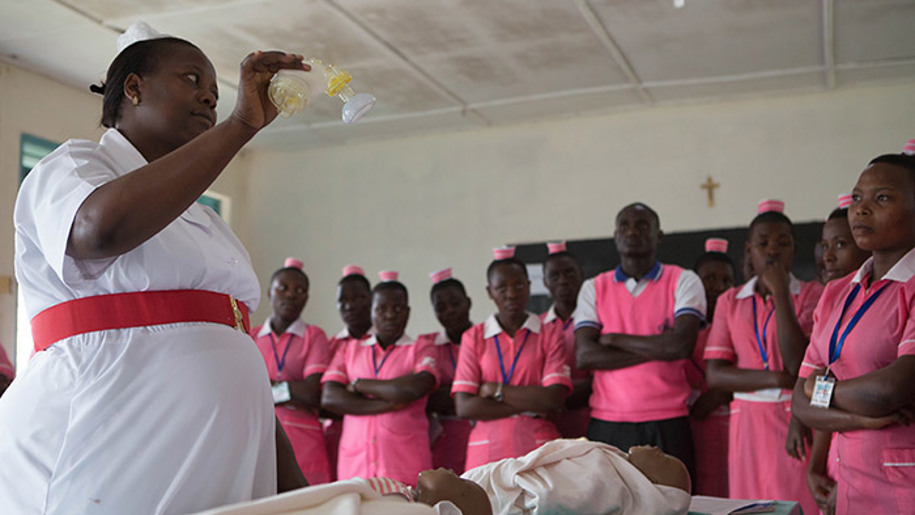 Programme


We would like to thank everyone at Kitovu Hospital and Masaka Regional Referral Hospital for facilitating the programme, particularly Dr Maura Lynch, Sister Maria Goretti, Sister Bernadette and Sister Lucy.


Thank you to THET for the grant to facilitate this project and for their support and guidance throughout the programme.
This project has been supported by the Laura Case Trust for delegate accommodation, subsistence, equipment costs and trainee manuals.


In addition, we are grateful to Dr Marcus Filshie FRCOG for his generosity to enable the RCOG to establish the RCOG / Marcus Filshie Fellowship – facilitating trainee doctors to support the delivery of training and the monitoring and evaluation of the project.